2021-2022
Eco Week - July 2022
For Eco week the children have been learning all about the environment, threats to it and ways in which we can help to look after it. They have worked in mixed age groups to explore a different environment or theme and then created a display board to share their research with others. The children did the research, printed their own pictures, made models, as well as an interactive element for their display board. We shared the end results in assembly - what a great job from all the children!
Little Weighton's Commonwealth Games Week - July 2022
We have been celebrating the upcoming Commonwealth Games with a sporting week of our own. We have included some the events from the Commonwealth Games, including cricket, Boccia and athletics, as well as football and trying our hand at ultimate frisbee too. Points have been awarded for winning as well as fair play and team spirit in line with the Commonwealth Games itself. We have enjoyed our sports in the sunshine and cooled off with ice lollies too. Go over to the Sports Page to see some pictures and find out the result!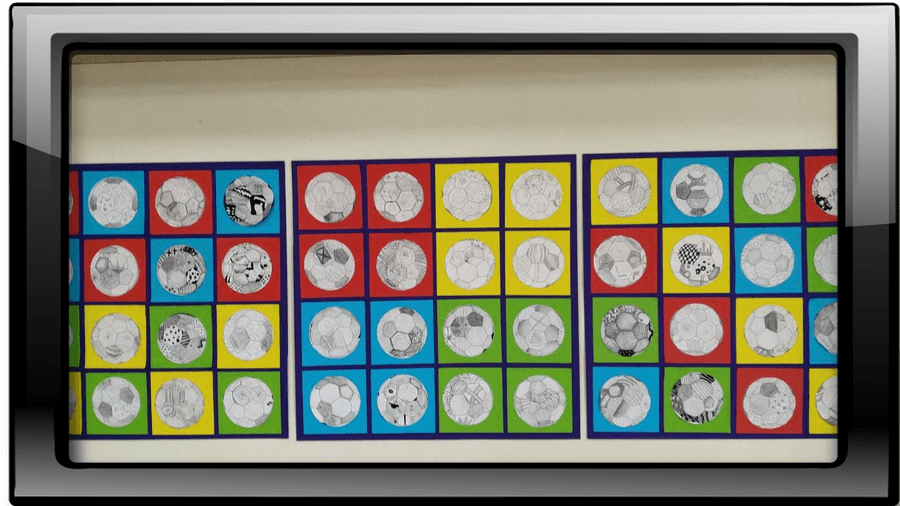 Outdoor Worship Reflection- July 2022
As a school at the end of the day, we gathered together for a reflective workshop. We have been learning about sacred places in R.E. and we quietly explored the sights, sounds, smells and textures of the school environment and garden. We choose an item each to bring back to our groups and together created something new with them. From our central space, we then worked as a group to express our individual and group creativity using chalk drawings. To end our collective worship time we gathered for a reflective prayer to appreciate the unique creation of ourselves and our environment.
Sports Day 2022
We had a warm evening (with some cooling showers) for sports day this year. The children all competed well and showed great fair play and team spirit. The eventual winners of the trophy this year was Discovery Team. Well done! Visit our sports page to see some more photos of the evening.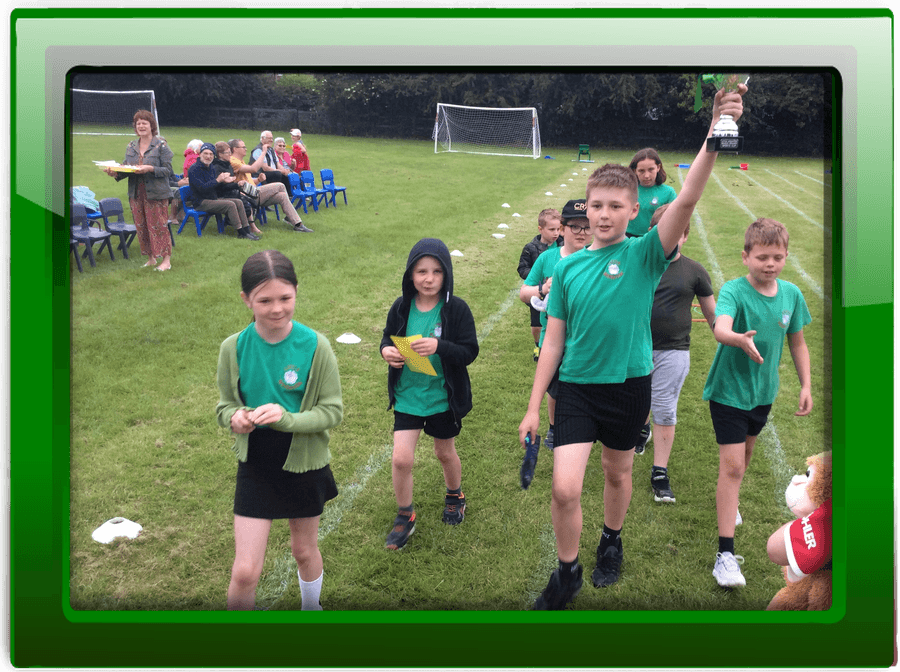 The Queen's Jubilee 2022
The children have been busily preparing their crowns, songs, poems and games ready for the Jubilee celebrations.

We started the day with the Big Jubilee Wake n Shake, with the whole school taking part in their red, white and blue outfits. Friends of School joined us to prepare for the afternoon, organising all the delicious cakes and buns that had been donated. Parents and carers joined us in the hall as our assembly started - a song from Nursery / Reception, a fashion show from Class 1, a poem from Class 2 and lots of interesting facts from Class 3. It was lovely to be able to have the whole school community meeting together in the school hall again. All the children also received a special commemorative Jubilee coin from the local councillors.

We were then able to go outside in the sunshine and enjoy the Jubilee games organised by the older children, ranging from 'pin the tail on the corgi' to 'throw a golden crown'. The celebrations included crafts, refreshments and face painting too. Everyone had a great time and nearly all the buns were eaten! Thank you to all the children for their hard work and all the families that joined us for our celebrations!
Spring Dig it Day- April 2022
Our Spring Dig it Day was a very busy time, clearing the vegetables planters ready for the summer crops of potatoes, beans, strawberries, sweetcorn and pumpkins. To encourage greater biodiversity we also planted two beds of wild flowers to attract pollinating insects. We created colourful ribbon weavings on the fencing and planted up the bean and pumpkin seeds ready to be planted out in a few weeks time.
Shrove Tuesday and Pancake Day-February 2022
The whole school gathered together again for our annual Shrove Tuesday worship assembly led by Class 2. They have been finding out about Lent and the significance of this time for Christians and they then shared what they had learnt with the whole school.
Christmas Parties and Conga - December 2021
We have been getting in the Christmas spirit with dancing, party games, a conga and party food to finish! Happy Christmas!
Christingle Service - December 2021
The whole school came together for a Christingle workshop as part of our Christmas celebrations. Class 2 then led the Christingle service and created a special dance to remind us of the symbolism of the Christingle.
Christmas Play - A Tale of Two Birthdays - December 2021
All the children took part in our Christmas play - A Tale of Two Birthdays. The children sing beautifully, spoke clearly and remembered all the actions to the songs. Well done everyone for working so hard to make the play a success!
Fun in the Snow and Hot Chocolate - December 2021
The children had fun playing in the snow at playtime this morning! Luckily for us, the Friends of the School had left us some hot chocolate so we were able to come inside and have some hot chocolate to help us warm up!
Coffee and Carols - December 2021
The children sang beautifully at our Coffee and Carols event today - well done! It was a big ask to do the same 'concert' twice in an afternoon but they rose to the challenge. The Friends of the School, who watched both, said they thought the second concert was as good as the first! We hope you enjoyed it as much as we did!
Anti-Bullying Week - November 2021
There were some fantastic odd socks worn today to recognise anti-bullying week. We shared an assembly about the importance and power of our words and Class One made a tree full of kind words , following the theme of 'one kind word!'
Children In Need - November 2021

We all came in our Pudsey clothes and P.E. Kit ready for a fun filled day, to raise some money for Children in Need. We enjoyed making our plant pots spotty and then planted them with daffodil bulbs (kindly donated by a parent). We ate buns (thank you Class One!), ran the novelty race and took Pudsey home to design him an outfit for our competition. It was a great day!
Remembrance Day - November 2021
For Remembrance Day Class 3 planned a morning of crafts and celebrations. We acquired two new teachers (some amazing Year 6 children) who led us through the morning. We made remembrance cards, as well as poppies for our school fence for the community to see and enjoy. Class 3 confidently led our assembly before 11 o'clock and we all then lit our (battery) candles during our two minutes silence. Outside we made a poppy hill to remember those who died in wars and those who still serve us today, filling it with crosses and poppies. We loved having Marlow the dog (from Cottingham High) with us for the morning too.

Harvest Festival - October 2021
It was lovely to welcome parents back into school today and celebrate our Harvest Festival together. We enjoyed singing some songs, some of us dressed as farmers and then we all delivered our flowers to the local community. The food brought in by the children will be donated to Hull Vineyard food bank.
Autumn Dig it Day 2021 - September 2021
Our busy day harvesting day included digging up of potatoes and carrots, harvesting wild flower seeds for next year, weeding, pulling up rhubarb and a lot of digging!