Christmas - December 2021
People Who Help Us - November 2021
Back to School - September 2021
Water Escapades - July 2021
Purple Pig Farm Visit - July 2021
Christmas - December 2020
The children all took part in our Christmas performance. They enjoyed singing the songs and learning the actions to go with them. We hope you enjoyed watching it at home!
Children in Need - November 2020
Foundation - September 2020
Remembrance Day - November
We joined the rest of the school for a very special Remembrance Service, planned and performed by Class 3. We each made our own poppies to wear to the service and we all sat very well, listening and learning. Class 3 then handed out some more poppies that they had made and took all the children outside where we each planted one in our own Poppy Garden. Class 3 made good use our our new outdoor classroom, where they recited poems, prayers and handed out some real poppy seeds for us to look at and plant. All of the nursery children took part and listened very carefully to what the older children were saying.
William's Den!
We had a fantastic day at William's Den! We started off the morning inside, climbing, sliding, playing in the sand and getting wet in the stream before we had a well deserved snack. Then we had a good play in the big sand pit outside, then moved on to the tunnels and bridges before each having a turn on the zip wire! We all had lunch in our very own private tee-pee and sand some songs before getting stuck into the afternoon. We went out into the meadow armed with brushes, nets and cups and went on a minibeast hunt! By then we were all worn out and went inside for some ice cream before heading back to school. The children all really enjoyed themselves are were all on their best behaviour! The staff at William's Den commented on how good the group was, so the staff are all very proud of them!
The Tour de Yorkshire!
We have had a very busy morning celebrating the Tour de Yorkshire, which passed though part of the village. Some children made crafts to decorate our classroom with, using lots of blues and yellows. We all went out onto the big playground with bikes and scooters to play games and race each other.
Dig it Day!
Spring has finally arrived, perfect timing for Dig It Day! The whole school worked together all morning to spruce up our outside areas. The nursery children were all keen to get involved too so they all put on some overalls and got to work. They were eagerly busy snipping, digging and pulling out some very resistant roots! They also did a lot of scrubbing and cleaning to brighten up our nursery garden toys. Some children were busy filling pots with fresh compost and planting some colourful flowers, which they will all help to water through the summer term. All of the children worked really hard and made a fantastic team!
Easter Crafts
The Easter Bunny was busy preparing all of the chocolate for delivery, the nursery children made some Easter baskets to collect them in. The children joined Class 1 in their room and were very busy using scissors and glue to make their own baskets. The children decorated them with chicks and eggs and, once they were finished, left them in the nursery overnight to see what happened. Of course they were not disappointed, as the Easter Bunny came and delivered some treats for all of the children! He even left a note on the whiteboard for them, wishing everyone a very happy Easter!
World Book Day!
On World Book Day all the children dressed up as a character from their favourite book and joined us for breakfast in the school hall. All the teachers were very impressed with their costumes, in the nursery we had Spiderman, Owlette, a mermaid, Chase, Ironman, Goldilocks, a ladybird, a Viking, a policeman and Goldilocks (again)! The whole school got together to listen to some stories and of course, show off their incredible costumes!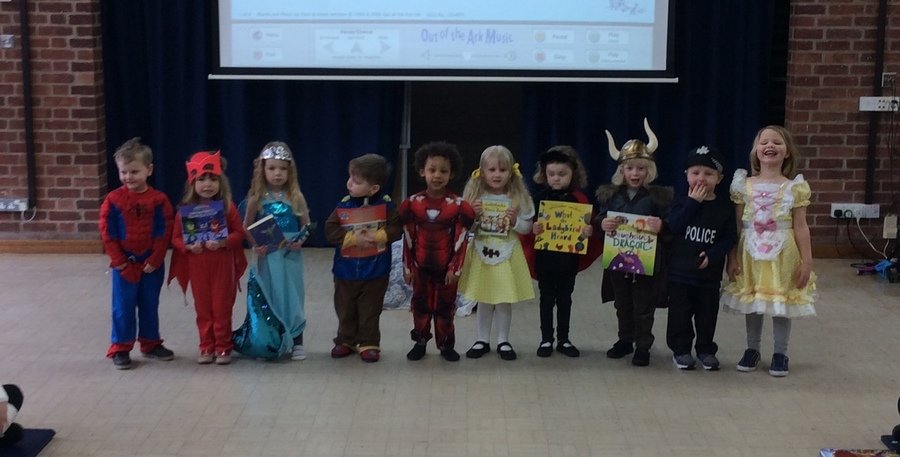 Fun in the Snow!
We had so much fun in the snow! We have had many days of snow this winter (and Spring!) which has given us many opportunities to make snow angels, build snowmen and go sledging. We even brought the snow inside to mix with colours to create some lovely pictures and make some delicious slushies. We went onto the big playground too, where some children were writing their names in the snow!

Sox the Fire Dog!
We had a very special visitor in school... Sox, the Fire Dog! We all joined Class 1, who were learning about the fire service, in the school hall and watched as Sox demonstrated his skills. Sox was very clever and was used by the fire service to sniff out the cause of a fire. We saw his special boots that he wore to protect his feel and got to see him in action, sniffing out some substances from the children's shoes! Afterwards we were all allowed to stroke him and tell him how clever he was!