2017 to 2018
Welcome to our gallery of photos. The photos in the gallery tend to be of whole school events. Please see class pages for more photos of your children taking part in class based activities.
Beach Trip to Bridlington - July 2018
Scooting for the Tour de Yorkshire Celebrations - May 2018
The children really enjoyed bringing their scooters into school to use during our Tour de Yorkshire celebrations. They happily scooted around the playground at play time (I think we may have another scooter day). They also enjoyed taking part in Mrs Church's challenge course - even the teachers had a go! In the afternoon the children took part in three activities; an orienteering activity, a circuit training session and a scooter time trial. All the scores were added up and on this occasion Red Team and Green Team drew in first place! Well done everyone!
Dig-it Day - April 2018
We were really lucky with the weather for Dig-it Day. It was definitely the sunniest and warmest day of the year! We all had a very productive and enjoyable day. The children were really keen to help plant up our fantastic new planters and we had a very good spring clean and tidy-up of the grounds and toy shed. There was a lot of good team work, with the older children helping the younger children and lots of discoveries of worms, snails and other mini-beasts. Mrs Fielder went a little mad with the power washer - none of us realised that the climbing wall's hand and foot holds were actually multi-coloured - I'd always thought they were meant to be a brown colour!
Sport Relief Day Update
Our final photograph of a very successful day. We have been overwhelmed by the generosity of all parents and carers with the donations of buns! We will send one home with each child - thank you! Well done to Team Endeavour who won today's challenges overall, however everyone was a winner and we have all had a fantastic day. Enjoy your Easter holidays - remember to continue having fun and stay fit!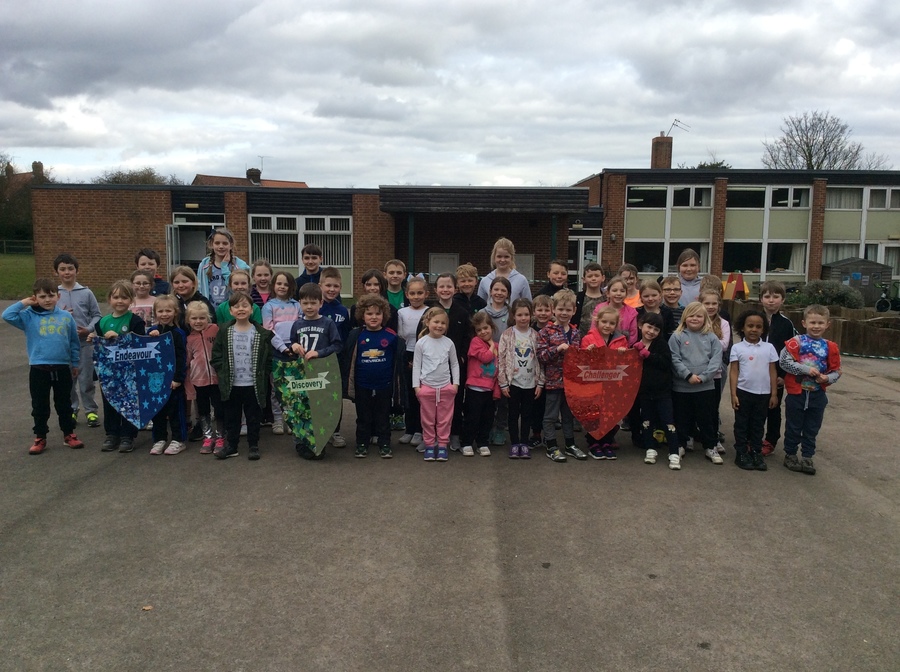 Sport Relief Day - March 2018
We all had a great day having fun, being fit and raising money for Sport Relief. Thanks to everyone who joined us for the mile and also the donations of money and buns.
NRich Maths Roadshow - February 2018
The children enjoyed taking part in the NRich Maths Roadshow. There were lots of practical challenges for the children to take part in. I think their brains were all hurting by the end of the session! Some children showed really good levels of perseverance, they kept going, trying different ways to solve the different problems.
Christingle Workshop and Service led by Class 2
Our Christmas Performance - Jesus' Christmas Party!
Well done to all the children for singing, dancing and acting so enthusiastically during all three performances of our Christmas Play! We all thought they did really well - we hope you did too! Below are some photos of the children in their costumes.
Coffee and Carols
Thank you to everyone who attended our 'Coffee and Carols' event. We hope you enjoyed it as much as the children did! All the staff were very impressed with their enthusiastic singing (especially of Ding Dong Merrily!!). Many thanks to North Ferriby Ladies' Choir for joining us and providing some entertainment in the interval. The Friends of the School worked really hard organising the refreshments and Christmas stalls and are pleased to announce that the event raised nearly £300.
Christmas Lunch
On Thursday the children enjoyed their Christmas lunch. Class 3 were allowed a lunchtime off from their usual duties of helping the younger children and everyone chose where they wanted to sit! Mrs Atkinson and the other grown-ups helped to decorate the tables and then all the staff provided a waitress service for the children! The school dinner was delicious and the children enjoyed a choc-ice or a shortbread biscuit for their pudding. Thank you very much to the kitchen staff at Westfield School for our lovely lunch!
Class 2 and 3 Christmas Decoration Workshop
Class 2 and 3 enjoyed Mrs Fielder's Christmas decoration Maths challenge. They had to carefully measure the strips to make sure the baubles were the correct size. The children had to use their doubling skills to double some decimal measurements to work out the lengths needed for the larger baubles. After that they had to work out how to put it together and fasten the ribbon onto their baubles.
Children in Need Day - November 2017
The Big Ramble on the Farm
Harvest Festival - October 2017
We celebrated Harvest festival together and gave our gathered vegetables from our garden with Hull Food Bank along with other donated food items. We wandered round the village an shared the Harvest flowers with some of the mature members of the community.
Autumn Dig it Day - September 2017